Fertility and Pregnancy: Sydney Naturopath Explains How Natural Solutions Can Help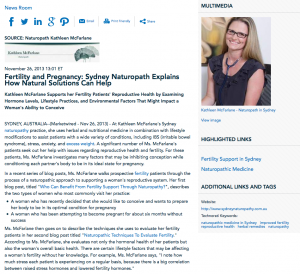 Kathleen McFarlane supports her fertility patients' reproductive health by examining hormone levels, lifestyle practices, and environmental factors that might impact a woman's ability to conceive.
Sydney, AU – At Kathleen McFarlane's Sydney naturopathy practice, she uses herbal and nutritional medicine in combination with lifestyle modifications to assist patients with a wide variety of conditions, including IBS (irritable bowel syndrome), stress, anxiety, and excess weight. A significant number of Ms. McFarlane's patients seek out her help with issues regarding reproductive health and fertility. For these patients, Ms. McFarlane investigates many factors that may be inhibiting conception while conditioning each partner's body to be in its ideal state for pregnancy.
In a recent series of blog posts, Ms. McFarlane walks prospective fertility patients through the process of a naturopathic approach to supporting a woman's reproductive system. Her first blog post, titled "Who Can Benefit From Fertility Support Through Naturopathy?", describes the two types of women who most commonly visit her practice:
A woman who has recently decided that she would like to conceive and wants to prepare her body to be in its optimal condition for pregnancy
A woman who has been attempting to become pregnant for about six months without success
Ms. McFarlane then goes on to describe the techniques she uses to evaluate her fertility patients in her second blog post titled "Naturopathic Techniques To Evaluate Fertility." According to Ms. McFarlane, she evaluates not only the hormonal health of her patients but also the woman's overall basic health. There are certain lifestyle factors that may be affecting a woman's fertility without her knowledge. For example, Ms. McFarlane says, "I note how much stress each patient is experiencing on a regular basis, because there is a big correlation between raised stress hormones and lowered fertility hormones."
In the final blog post of her fertility series, entitled "How Can A Woman Improve Her Chances For Successful Conception?", Ms. McFarlane provides a number of examples of external environmental factors that may impact the fertility of her patients. Such environmental factors include radiation from sources including mobile phones, microwave ovens, and frequent flying. Another surprising environmental factor that Ms. McFarlane says can cause fertility complications is excessive exposure to plastics. Ms. McFarlane highlights that "Plastics have a very similar chemical structure as estrogen (part of a group of chemical structures known as xenoestrogens) and can disrupt a woman's natural estrogen levels."
Sydney naturopath Kathleen McFarlane believes her main role in assisting women with fertility issues is to help make her patients aware of lifestyle and environmental factors that could possibly inhibit their likelihood of becoming pregnant. In addition to investigating hormone levels for irregularities, she looks at the health of the entire woman—both body and mind—to ensure that each woman reaches the ideal state for conception.
About Kathleen McFarlane
Kathleen McFarlane has studied herbal and nutritional medicine for over ten years and believes real health is achieved when all aspects of her patients' lives are in balance. Using functional pathology testing alongside holistic techniques, she combines conventional and complementary medical models to investigate her patients' overall health and identify the root cause of any disease. Kathleen McFarlane is available for interview upon request.
For more information about Kathleen McFarlane and her naturopathy practice, please visit www.kathleenmcfarlane.com.au.

Contact:
Kathleen McFarlane
263 Glenmore Road
Paddington 2021
Phone: (02) 9331 5500
Email: kath@sydneynaturopathy.com.au
Rosemont Media
tom@rosemontmedia.com
(858) 200-0044
www.rosemontmedia.com
Previous Post
Next Post